Decode

your

power

Graduate

Hubert Borowczyk

about his career change
I wanted to develop, I became a programmer - Hubert's story
After school I started working as a paramedic in an ambulance and at the same time (like most people working in the health service) in a hospital emergency ward, also in the same position. I did this for almost 2 years and then managed to change my job to something quieter. I found a job as a laboratory technician in a blood donation centre, where I worked for another 7 years and reached the point where there were few development opportunities.
The lack of perspectives made me decide that it was time for a change.
By nature, I am a person who wants to constantly develop, learn something new - I do not like to "standstill". Why did I choose programming?
It started a few years before the course. My wife runs her own business and she needed a website. In the age of the Internet, access to all sorts of tutorials is unlimited, so I figured I'd take on the task myself.
At first it was a funny website made in some generator, but after some time I converted the ready-made template for our use. It was a lot of fun and made me realise that I could do something like that professionally. It's really interesting and gives me a lot of satisfaction.
---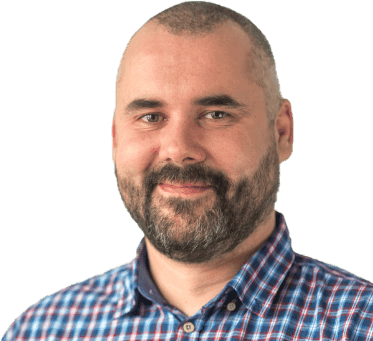 Hubert Borowczyk
Javascript course graduate
I started looking for a course, but at that time there were not many bootcamps. I found Coders Lab. Unfortunately, the courses were held only in Warsaw. There was the possibility of a weekend course, but commuting was out of the question for me.
The topic was quiet for a while. After those few years, at the moment when I started to think about changes, I came across an advertisement of Coders Lab with the information that they start courses in Poznan.
The decision was easy because even if it did not contribute to changing my job it would still be another valuable experience, something new, so I could only gain. I signed up for the first edition of the front-end course in Poznan in weekend mode, which I completed in April 2017.
---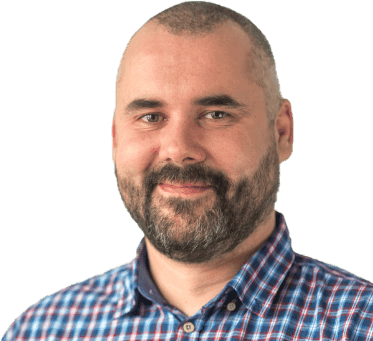 Hubert Borowczyk
Javascript course graduate
The course is practice-oriented
I appreciate the course itself because of several elements. First of all, every fortnight (weekend mode course) I had a weekend just for myself and could develop my passion, which with small children at home was not so easy. Secondly, it's great that the course is geared towards practice. There is a presentation and then most of the time there are assignments and various exercises. There is no unnecessary stuff in the course programme. The course is run by practitioners, people who are "in it". (it is not always like that in computer science classes at school). Sometimes it was nice to see it when I was struggling with a problem. I asked the lecturer for help and I got an answer, which was logical and simple. I couldn't think that way yet and couldn't see the solution. The large number of "homework assignments" added to the mobilisation and meant that I also had to set aside some time at home, which was the biggest challenge for me.
After the course, I did not stop learning
I watched tutorials, invented mini-projects for myself, etc. I tried not to lose touch with programming.
At the same time, I was sending out my CV wherever I could, going to interviews, solving recruitment tasks. And there were probably about 10 such interviews, but I wasn't discouraged because I set myself a goal that I had to change jobs by the end of 2017. And that was accomplished.
---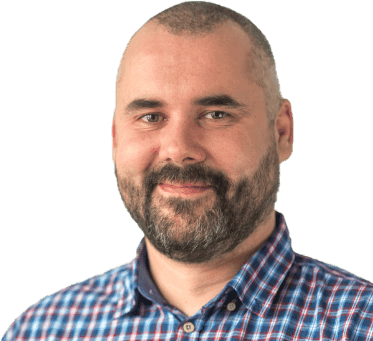 Hubert Borowczyk
Javascript course graduate
I got to my current company (SPOC S.A.) indirectly through Coders Lab, i.e. the company cooperates with Coders Lab and a colleague from the course got there, who in turn recommended me.
Currently, I work as a Javascript Developer and Servicenow Developer in the largest company in this part of Europe implementing the ServiceNow platform and ITSM solutions
Do I like it? That is an understatement. I work on projects for global, recognizable brands so I gain valuable experience. I have the opportunity to learn about processes and how such powerful companies function. Additionally, practically every day I learn something new, I can develop and move forward.
There's something new practically every day in IT, so it's no longer the case that I'm stuck again. What more could you want? After all, that's what I wanted.
---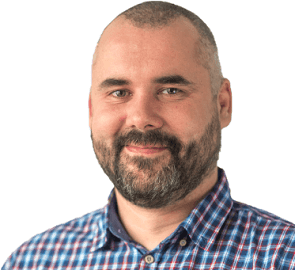 Hubert Borowczyk
Javascript course graduate
The course gave me a solid foundation to start working as a programmer. In retrospect, I can say that it was one of the best decisions in my life because thanks to it I am now where I am.
Find out how to decode your power
Download our guidebook - you will find there information how to choose a course for yourself and development IT paths after the course.
Learn other stories
Each graduate had different motivations and doubts at the start. But they made a bold decision and took that first, difficult step toward change. They let go of past achievements and lessons learned and... changed their professional lives. See how they did it.